Aero India 2017: Rafael scores big in airborne SDRs
Digital Battlespace
Aero India 2017: Rafael scores big in airborne SDRs
17th February 2017 – 12:58 by Gordon Arthur in Bangalore
[1]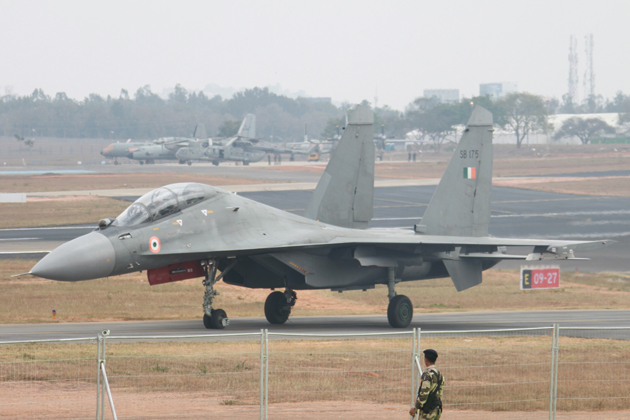 Rafael is getting ready to supply its BNET-AR, part of the Israeli company's software-defined radio family, to the Indian Air Force (IAF) in serious quantities. Speaking to Shephard at Aero India 2017 in Bangalore, a Rafael spokesman said a contract should be signed by the end of March after the company was earlier selected to supply the BNET-AR for the IAF's Sukhoi Su-30MKI (pictured above), Jaguar and airborne early warning aircraft fleets. When units for both aircraft and ground stations are counted, the quantity amounts to 1,000 radios, each of which weighs 7kg and measures 130 x 250 x 250mm. Rafael noted that there is potential for the IAF to later fit this family of SDRs onto other aircraft platforms too.
BNET[2] is a self-healing, mobile, broadband ad hoc network (MANET) system, and the radios provide both air-to-air and air-to-ground functionality. BNET-AR will replace the existing Integrated Radio Communication (INCOM) set on aircraft.
To comply with Indian procurement regulations, Rafael is working with local partner Astra Microwave via a joint venture. Meanwhile, Hindustan Aeronautics Limited (HAL) will perform integration of the radio system, while Bharat Electronics Limited (BEL) is responsible for the ground stations. In related news, the Indian Army issued an RfI for SDRs a couple of months ago, and Rafael will respond to this also. Other areas of focus for Rafael in India are air-to-air missiles and surface-to-air missile (SAM) systems.
Yaniv Rotem, business development and marketing manager for the air superiority systems division, said Rafael is offering a suite of weapons for India's indigenous Tejas light fighter[3]. These include Derby Mk III and Python-5 missiles plus the SPICE family of guided munitions (250, -1000 and -2000). The IAF already operates the SPYDER[4] SAM system, so outfitting the Tejas with the same Derby and Python-5 missiles would allow each other's stockpile to be fully exploited. The Derby Mk III is an Indian version of the beyond-visual-range I-Derby ER. The improved missile with longer 100km range was unveiled two years ago at Aero India, and it features a dual-pulse rocket motor and software-defined radio frequency seeker.
The Tejas has already been successfully configured to carry baseline Derby missiles, and it is believed that the IAF is evaluating this missile type in competition with the MBDA Meteor and Raytheon AIM-120D. The SPICE 250, mounted on a quad rack and offering a 100km range, is currently undergoing acceptance testing in Israel. Rotem said it offers better range, accuracy, penetration and frangible effects than the 500-pound Mk 82 bomb. It can be used independently thanks to a data link and automatic scene-matching, or it can combine with a Litening pod to hit moving targets on land or sea. Both the Litening 5 navigation and targeting pod and the Lite Shield[5] electronic attack pod for close protection and escort jamming are on offer to India.
In terms of SAM systems, Rafael was promoting Iron Dome[6] at Aero India 2017, with the famous system performing more than 1,700 interceptions to date. Pini Yungman, head of the missile defence systems directorate, said Iron Dome could be combined with the Barak 8 missile[7] that India will be inducting in significant quantities. C-Dome is the shipborne variant of Iron Dome, giving naval vessels an area defence capacity. Yungman said it would make a good replacement for the older Barak 1 missile currently installed on Indian Navy vessels. The Indian Army has already selected the Spike anti-armour missile[8] and a contract for 321 launchers and 8,356 missiles is approaching.
A company executive stated, 'I would like to emphasise that we are seeking to enlarge our partnerships in India, and we are negotiating with the local industry to make this happen.'
As well as the aforementioned tie-up with Astra Microwave, Rafael also has partnerships with Bharat Forge, Reliance Defence and Engineering (formerly Pipavav) and Bharat Dynamics Limited.
Email this to a friend.
References