How the Border Wall Cuts Across Mexico's Political Landscape
MEXICO CITY – Tightening of the U.S.-Mexican border is sending political and economic shock waves deep into Mexico. Some there say it may force the government to improve conditions at home so there's less motivation to head north. Patriotism was on display as military drummers signaled a changing of the guard at the office of the Mexican president recently. To no one's surprise, at least in Mexico City, Donald Trump's election has triggered a rise in Mexican nationalism. The ardent Mexican leftist and twice-defeated presidential candidate Andr s Manuel L pez Obrador is surging in the polls. He's riding revulsion in Mexico about Trump s stance on immigration and his push for an expanded border wall.
Trump has given Mexico s left a political gift, said Juan Carlos Romero Hicks, a member of the Mexican Senate's Foreign Relations Committee.
"I never dreamed in my lifetime of a U.S. president that would be afraid of Mexico, afraid of competition!" Romero Hicks said. The foreign relations committee continues to promote an integrated North American economy. But Romero-Hicks said that's a challenge right now.
"In the U.S. there's notion that is not correct that we are a security threat. Building a wall is absurd."
Federico Estevez is a political scientist at Mexican university ITAM. He said the idea of an expanded wall whether with bricks and mortar or cameras and drones is prompting many in Mexico to demand their country finally reduce its economic dependence on the U.S.
"For too long Mexicans have coddled the illusion that if things were bad enough they could always go north for a new opportunity, Estevez said. If you put up the wall, well there's no better symbol that tells you, 'Nope, you're stuck.'"
Estevez added that Mexicans are focused like never before on their government's historical inability to create jobs. That s a view shared by Esteban Illades, managing editor at current affairs magazine Nexos.
"Mexican politicians care less and less about job creation here in Mexico because they do know they can export Mexicans to the U.S. But that has changed," Illades said. After peaking in 2000, the Pew Research Center said in 2015 that net migration to the U.S. from Mexico was zero. That remains the case today. As many Mexicans enter the U.S. as leave each year. But since Trump started talking about the border, some unauthorized immigrants from Mexico have returned home.
President [Enrique] Pe a Nieto said a few weeks ago that Mexicans were coming because they knew that Mexico was the land of opportunity, Illades said.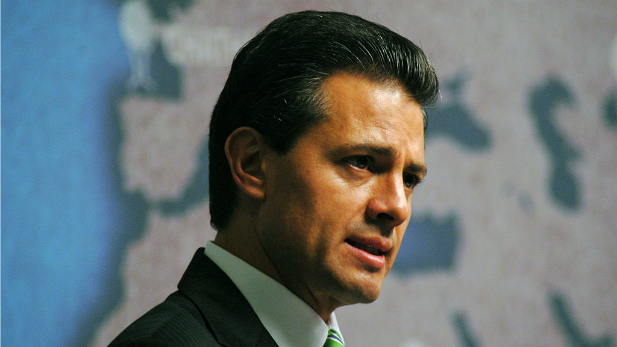 Mexican President Enrique Pe a Nieto. (PHOTO: Chatham House via Wikimedia Commons)
But he is not buying what President Pe a Nieto is selling.
There's no job creation, violence is at the levels we haven't seen since 2011, Illades said. They re not coming back because they want to. They re are coming back because they're scared or because they're being deported by Donald Trump."
And figures like leftist presidential candidate L pez Obrador are leveraging that fear. He recently told U.S. audiences that the wall won't stop "the flow of workers," only "make it more dangerous." He also calls an expanded wall a "criminal act."
"Donald Trump has permeated the Mexican political discourse," said Victor Hugo Michel, chief editor of El Financiero television, a channel devoted to the economy.
"You see that Andr s Manuel L pez Obrador, he has positioned himself as the only candidate that would know how to react to Donald Trump, Michel said, and this is having a success because most Mexican voters want to see retaliation."
Though a leftist, L pez Obrador and Trump are fellow travelers in a sense. Both rail against their neighbor and both want change on the border. Trump wants it effectively sealed. L pez Obrador wants the U.S. to reform immigration so that Mexicans can cross legally. The only questions now are, Whose vision of the border will become reality? And, Might uncertainty on the border force the Mexican government to start substantive job creation at home?