+2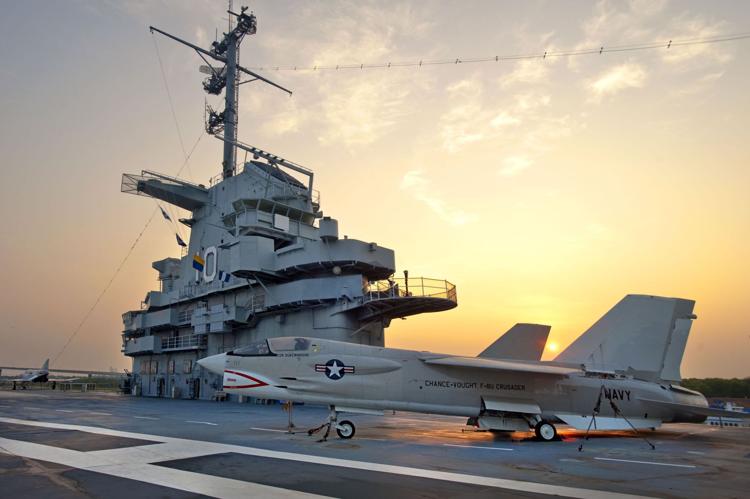 The Yorktown at Patriots Point is getting a security upgrade. File/Provided
Yorktown aims to guard against 'lone-wolf situation'
Visitors to the Yorktown probably wouldn't notice unless there's an emergency, but Patriots Point Naval & Maritime Museum is beefing up security on its biggest attraction. The first step is installing a half dozen silent alarms that directly connect with the Mount Pleasant Police Department throughout the retired Navy aircraft carrier. Only staff would have access to them. The Patriots Point Development Authority this month agreed to spend about $1,200 with Sonitrol for the installation, and the buttons could be in place before summer. It's not been decided yet whether they should summon police directly or trigger a phone call first.
We just feel like it s important, given what s going on in the world, to be prudent … to guard against a lone-wolf situation, said Mac Burdette, executive director of the state-owned visitor site.
Patriots Point is also studying how to strengthen security at the gate and is considering hiring off-duty police officers to patrol the grounds. Above all, the museum wants to avoid the inconvenience of having to search all visitors, Burdette said.
$500 million move
The downtown Charleston office of Wells Fargo Advisors is feeling about $500 million poorer. A team of financial consultants who manage assets in that amount recently bolted after 12 years with the firm. Ameriprise Financial announced that Donald Alderman, Ed Holt, Jamie O'Brien and Scott Laney have joined the Minneapolis-based regional broker-dealer. O'Brien, a former hockey player for the South Carolina Stingrays, is manager of the new Meeting Street office.
"After extensively interviewing multiple firms we were most impressed with the Ameriprise culture, their management team and their superior technology specifically their mobile capabilities for both the adviser and the client, which far exceeded anything else we had encountered," he said in a statement.
Not so innovative
Charleston may be buzzing with loads of technology-based businesses, but that doesn't help to place South Carolina among the most innovative states in the nation. In light of deep budget cuts proposed by President Donald Trump to federal research and development, personal finance website WalletHub analyzed 2017 s Most & Least Innovative States[1], as well as Washington, D.C. Using 18 metrics, the data set ranges from share of tech-trained professionals to research and development spending per capita to average Internet speed.
South Carolina comes in 41st. Who's on top? That honor goes to the District of Columbia. In general, states in the Northeast and West fared well.
And who's on the bottom? That distinction goes to West Virginia. Southern states generally ranked lowest among the survey's findings.
Paperwork issues
+2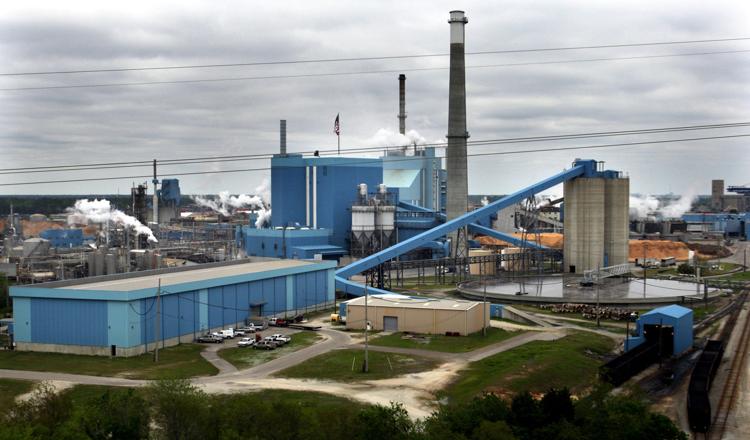 KapStone bought its North Charleston paper mill from MeadWestvaco Corp. in 2008.
Some state emissions regulators have their noses out of joint over issues with the KapStone mill in North Charleston. The big paper maker disclosed in its recently filed annual report that it received a notice of alleged violation related to air regulatory requirements at the Cooper River site from the S.C. Department of Health and Environmental Control in October.
Several of the allegations related to recordkeeping/reporting, monitoring or paperwork requirements which did not implicate actual emissions (and which have been corrected), KapStone said in its latest filing. It added that three of the allegations related to periodic compliance monitoring of particulates from operating equipment sources that are considered to be serious under DHEC guidelines.
No emissions from the monitoring resulted in any impact to the environment or human health, and no annual limits were exceeded because this allegation involved spare equipment that is operated only a limited number of days each year, KapStone said.
Discussions between the agency and the Chicago-based manufacturer are ongoing. The outcome of those talks was uncertain at the time of the filing, and, as a result, KapStone Paper and Packaging Corp. told investors that it cannot reasonably estimate its potential liability for this enforcement matter.
However, no capital expenditure is required and all repairs and corrective actions have been performed resulting in full compliance at the time of this report; thus the company currently does not expect that the result of those discussions will be material to the company.
+2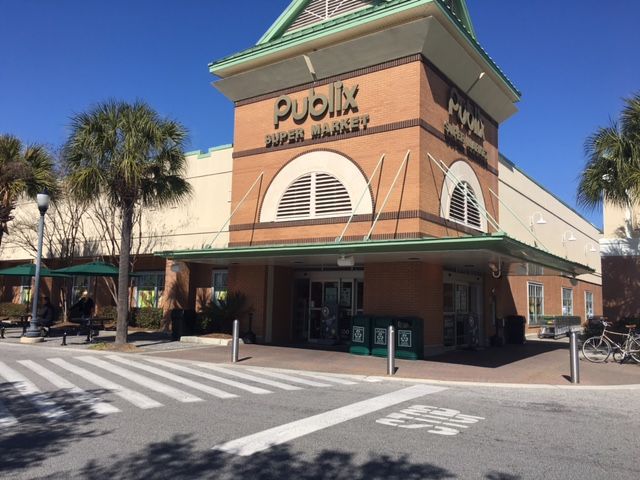 Publix's commercial real estate purchases in the Charleston area include Daniel Island Town Center (above). File
Publix property
Publix appears to be in the mood to shop – for commercial real estate. The big supermarket chain recently finalized the purchase of the Shoppes of Park West, the site of one its three Mount Pleasant stores. It picked up the 11-acre property for $15.4 million from an affiliate of Retail Properties of America, Charleston County land records show. The shopping center, which is off U.S. Highway 17 and north of S.C. Highway 41, was built in 2004.
The sale closed about a year after Florida-based Publix Super Markets Inc. bought the 5-acre Daniel Island Town Center it anchors on Seven Farms Drive. It acquired that property for more than $13.8 million under the name Real Sub LLC, an apparent nod to the grocer s popular deli sandwiches known as Pub Subs.
Cutting edge kudos
A Wando High School student with some business chops has been recognized in the Big Apple for his kitchenware creations.
Lucas Greenway's hand-made cutting boards and cutlery were featured last week at Network for Teaching Entrepreneurship's Global Showcase in New York City. The March 23 event highlighted innovative projects of young innovators from the U.S. and around the world.
Greenway calls his budding venture Charleston Cutlery. Last fall, he was named South Carolina entrepreneur of the year for 2016 by YEScarolina. In announcing that award, that group said several boutiques were carrying his wares, and that Greenway "learned through his entrepreneurship class, and the skills he gained from his father, how to take his hobby of woodworking and turn it into a business."
References
^ 2017 s Most & Least Innovative States (cardhub.us1.list-manage1.com)